''Lieutenant Worf: Sir, the coordinates they have set - they're on a direct course to sector 001. The Terran system.
Commander William T. Riker: Earth.''
I am Locutus - of Borg. Resistance - is futile. Your life, as it has been - is over. From this time forward, you will service - us.
Strength is irrelevant. Resistance is futile. We wish to improve ourselves. We will add your biological and technological distinctiveness to our own. Your culture will adapt to service ours.
Ouaiiss! Je l'ai et je vous en parlerai en détail un peu plus tard mais je n'ai pas pu résister de tester le scénario livré avec! La bataille de Wolf 359!
Sans plus attendre, le rapport!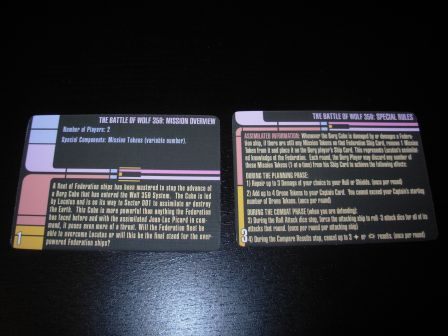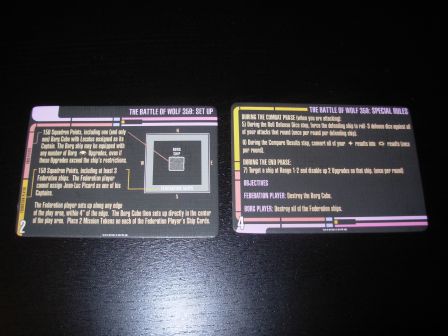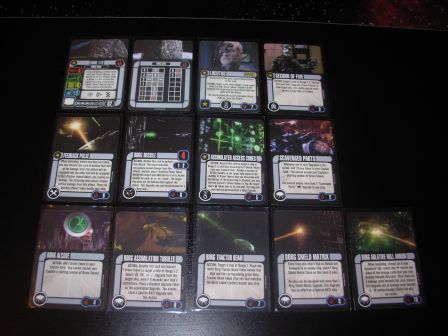 Le Cube Borg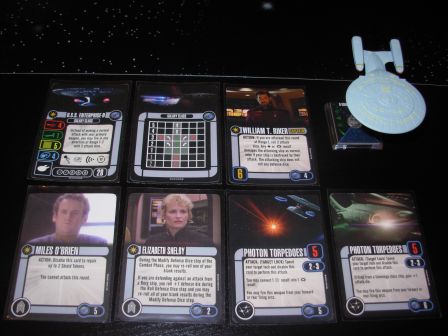 L'U.S.S. Enterprise-D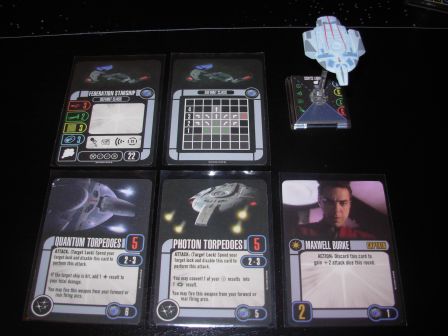 Le NX-Defiant en cours de test.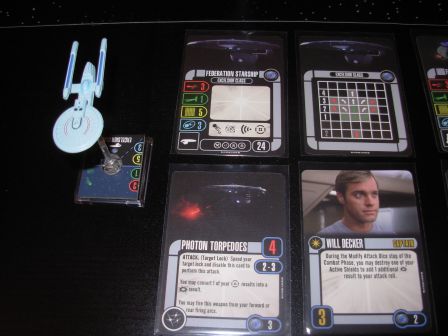 L'U.S.S. Melbourne
L'U.S.S. Yeager
Mister Worf, dispatch a subspace message to Admiral Hanson. We have engaged the Borg.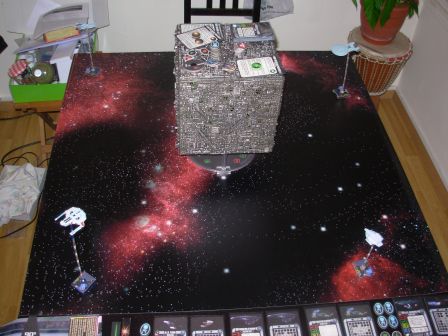 Déploiement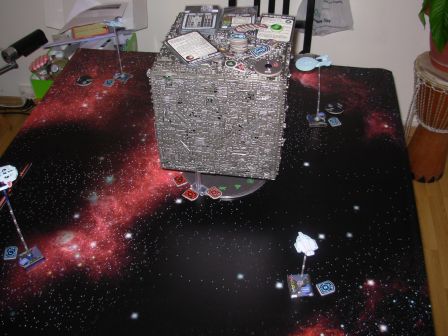 Les vaisseaux se lancent à l'assaut mais le Cube Borg se détourne un peu et évite le tir de deux vaisseaux ce faisant.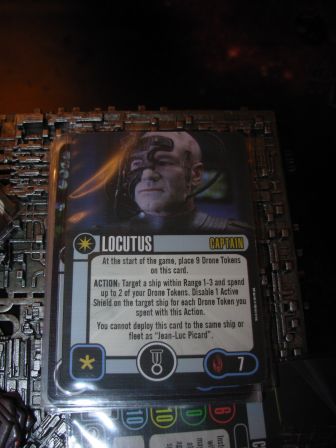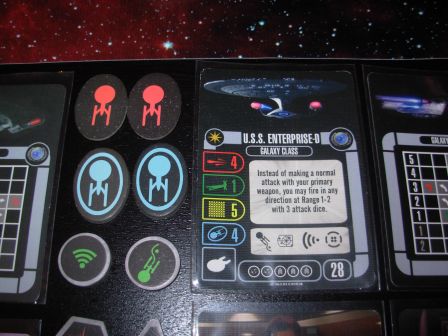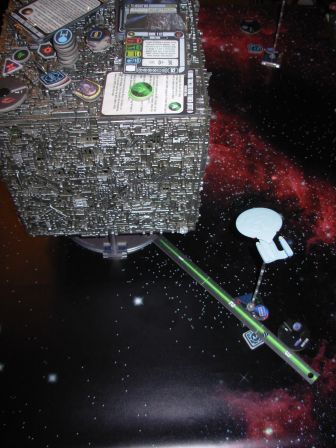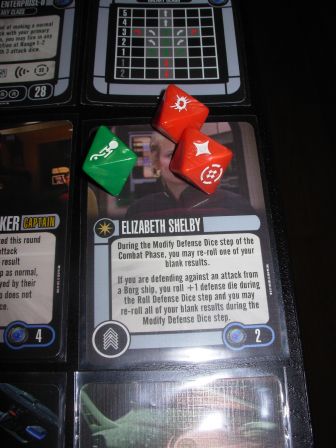 Locutus utilise ses connaissances pour faire baisser deux boucliers à l'Enterprise mais le pire est évité grâce au Lieutenant Shelby.
Commander William T. Riker: The Captain?
Lt. Commander Data: We were unable to retrieve him, sir. The Captain has been altered by the Borg.
Commander William T. Riker: Altered?
Lieutenant Worf: He IS a Borg.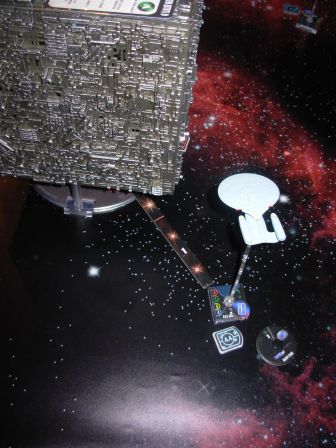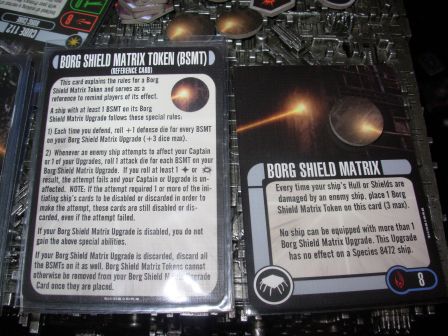 L'Enterprise réplique mais la matrice Borg commence à s'adapter.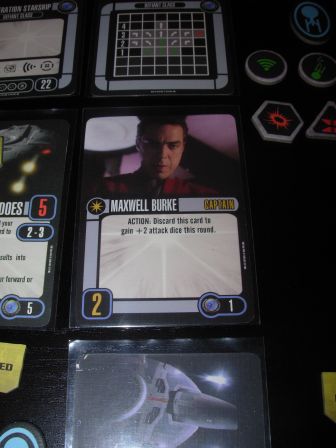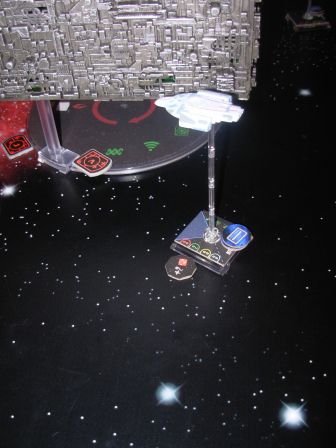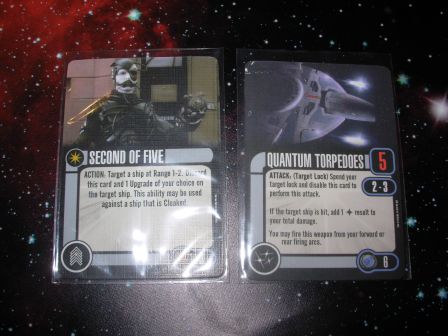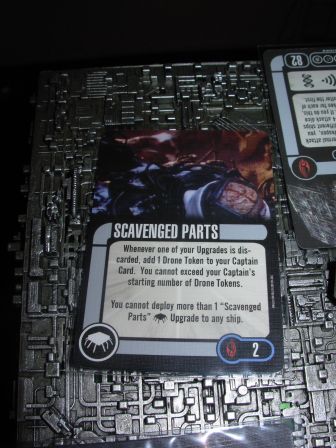 Le Capitaine Burke booste les phaseurs mais ne parvient pas à faire de dégâts significatifs. Le Cube avance vers son vaisseau et oblige le Defiant à effectuer des manoeuvres d'évasions. Les Borgs en profitent pour s'introduire dans le vaisseau pour mettre à mal les torpilles quantiques. Comme une carte vient d'être défaussée, les Borgs recyclent le drone et gagne un jeton drone à utiliser pour les actions.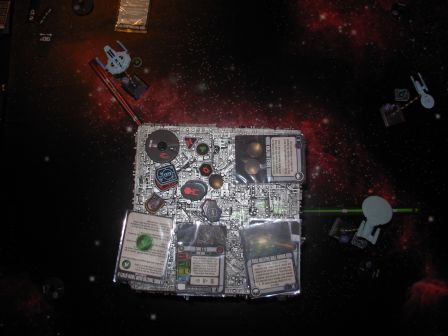 Le Cube effectue une attaque multiple.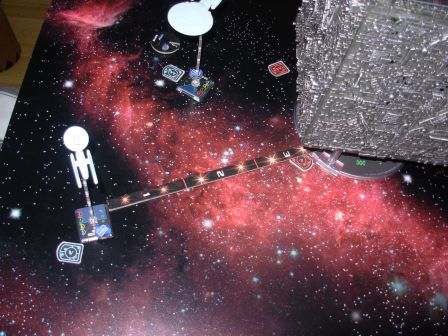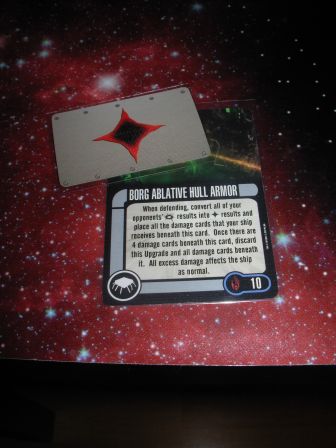 Le Melbourne met à mal les boucliers et attaque enfin la coque du Cube mais celui-ci est équipé d'une armure ablative...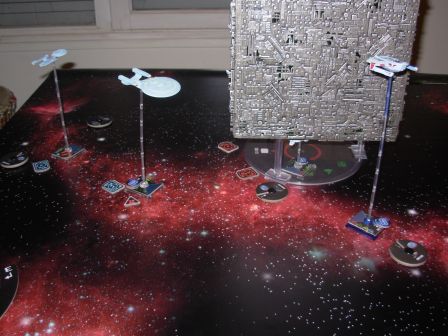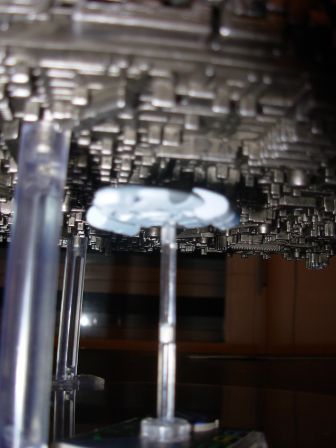 Les manoeuvres s'enchaînent mais le Cube est résistant.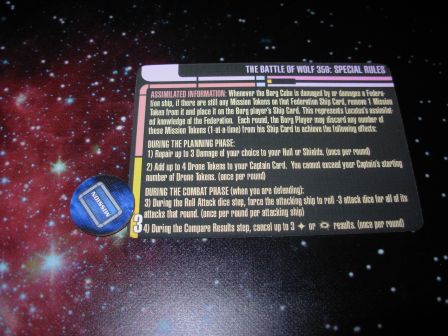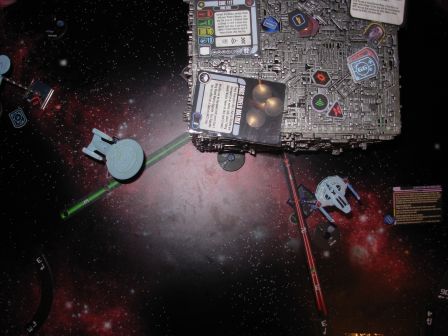 Un tir bien ajusté aurait pu faire mal mais le Cube utilise sa capacité pour perturber les senseurs des vaisseaux.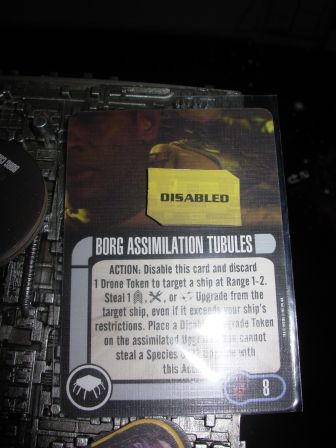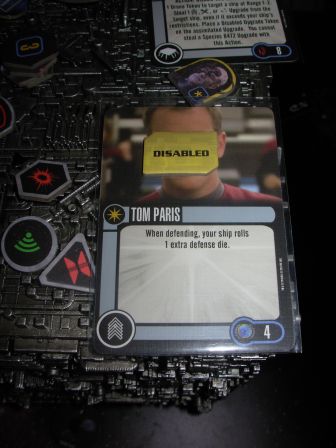 Un instant de faiblesse et le Yeager voit son pilote être assimilé par les Borgs.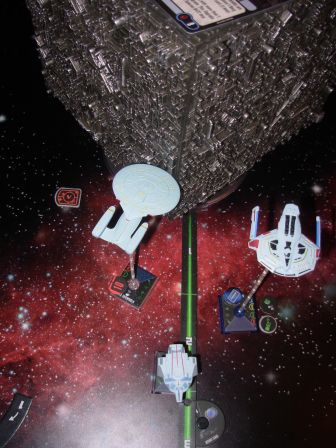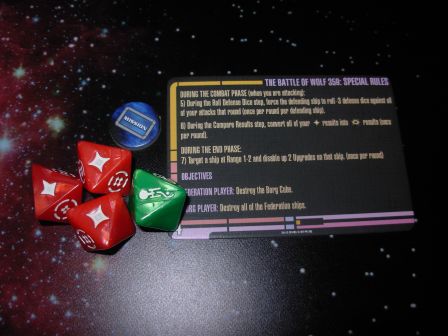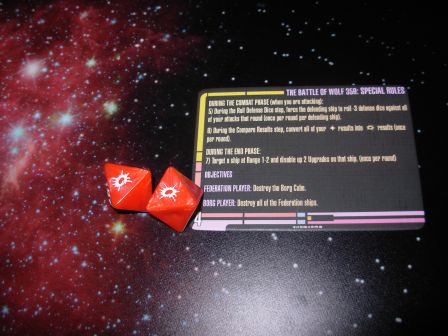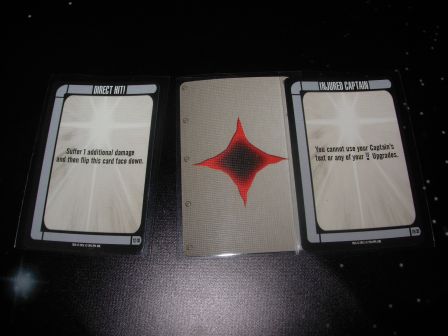 L'instant d'après, le Defiant est mis hors-combat.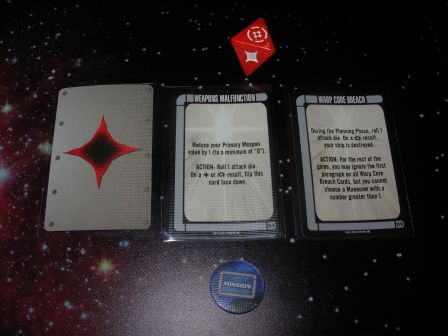 Le Melbourne fait encore mouche et touche le réacteur du cube mais celui-ci régénère immédiatement sans subir plus de dégâts.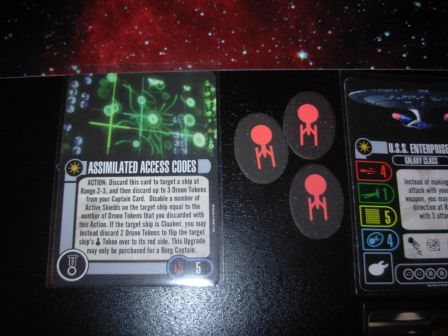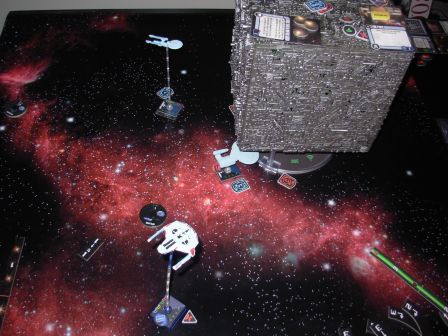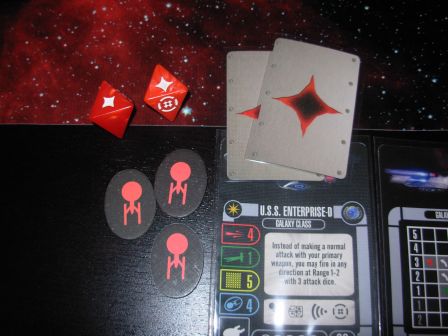 Locutus trouve le nouveau code d'accès mais les dégâts ne suffiront pas à détruire l'Enterprise.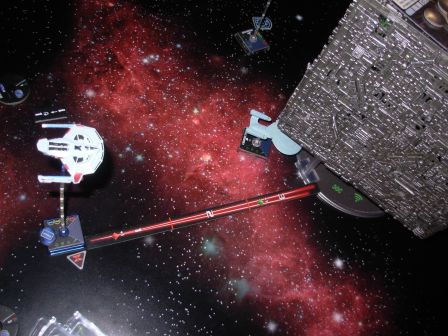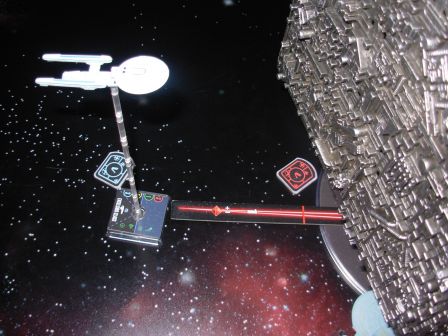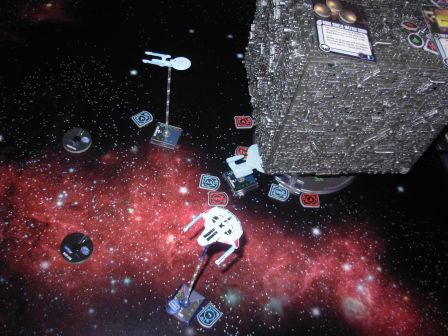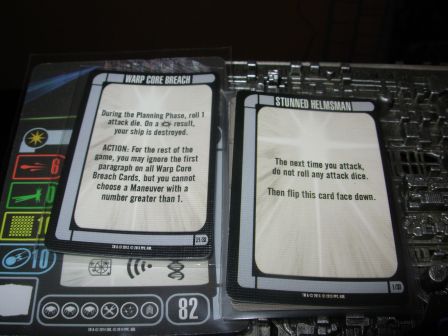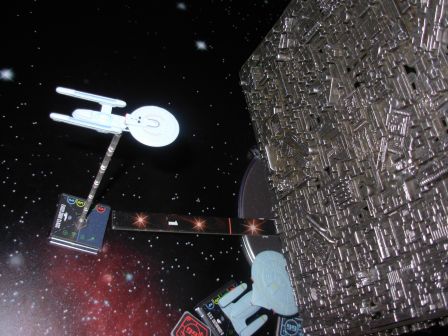 Les tirs s'enchaînent trop rapidement pour que le Cube puisse se défendre.
Le Cube explose finalement mais les pertes sont importantes. Cette bataille restera dans les mémoires.
OUF! il est costaud le bougre! Bien que livré sans cartes d'équipements, le cube reste un redoutable adversaire! Son mouvement est vraiment sympa! Et sa capacité est géniale! Le seul truc est que je ne l'ai pas super bien joué car les Borgs nécessitent une prise en main. Mais ça reste un excellent souvenir! Un cube seul face à 4 vaisseaux et il s'est bien débrouillé!